Sonja not only helped me pack before the move, she drove down in the U‑Haul with me, and she also very kindly provided documentary photographs. (Bob also did an amazing amount of helping me pack, and he drove my cats to Provincetown. Madame Max cried the whole way. And I think Glencora peed in the carrier.)
The guys I hired to pack the truck did so in an hour, and Sonja and I set off slightly ahead of schedule. Which was nice, considering the fact that it was snowing at the time. There had been a snow emergency declared (on both ends of the trip), but it was lifted in Somerville shortly before we left. The traffic was light and the roads were pretty good through most of Boston. (We will not speak about the near-death experience in which the weather was not really a factor.)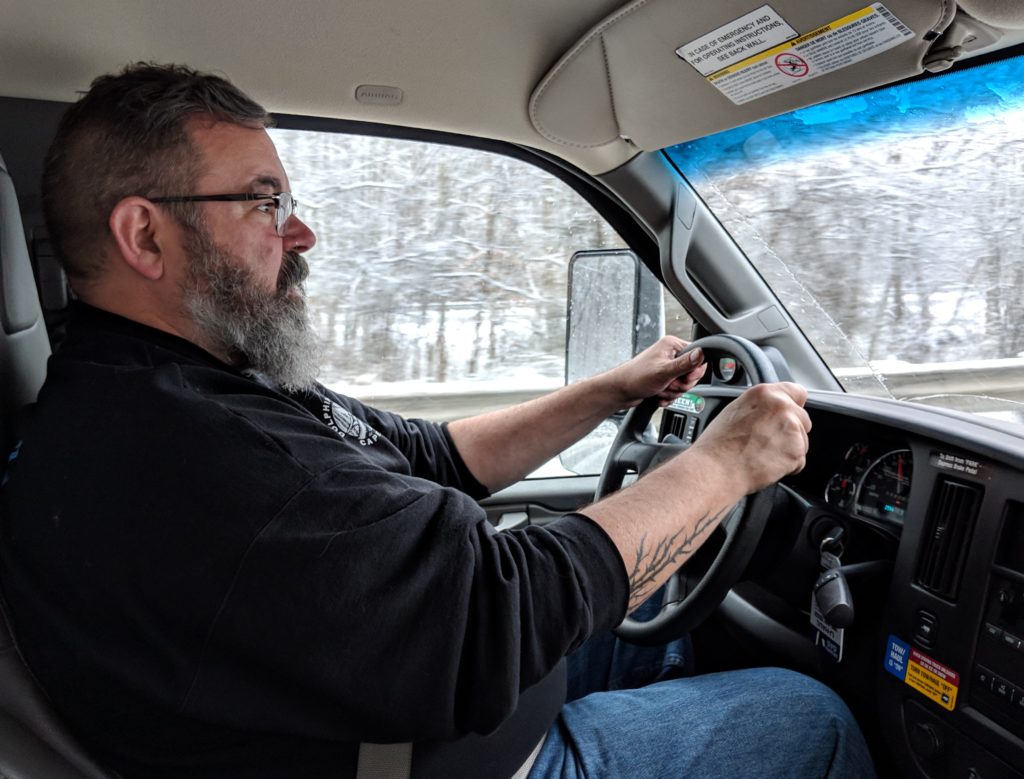 There were a few stretches as we headed south with more snow (like Duxbury), but it wasn't until after we hit the Cape that we got into some pretty serious snowy driving (for a Southern California boy).
Welcome to Provincetown!
I was curious about what changes I would find in the apartment. It's still a studio, but it's no longer one room. There's a new semi-wall and a barn door that somewhat closes off one end (sadly, it doesn't close enough to confine the cats). The new surround for the bathtub came in cracked, and the new one hasn't come in yet. There's a broken pipe under the kitchen sink, so it's unuseable and "I've called the plumber but I'm not sure when he'll make it, because it's Ptown." (At which point Bob interjected the above welcome message.) There's still a distinct aroma of paint in the air, and the closet-ish area on the back of the semi-wall hasn't been finished—which is actually nice, because I asked for a shelf and a clothes rod instead of two clothes rods.
Two signs of being in a small town (really a village): a letter confirming my change of voter registration was already waiting for me; at least two people stopped to quite frankly stare at the moving while in process, while not actually saying hello.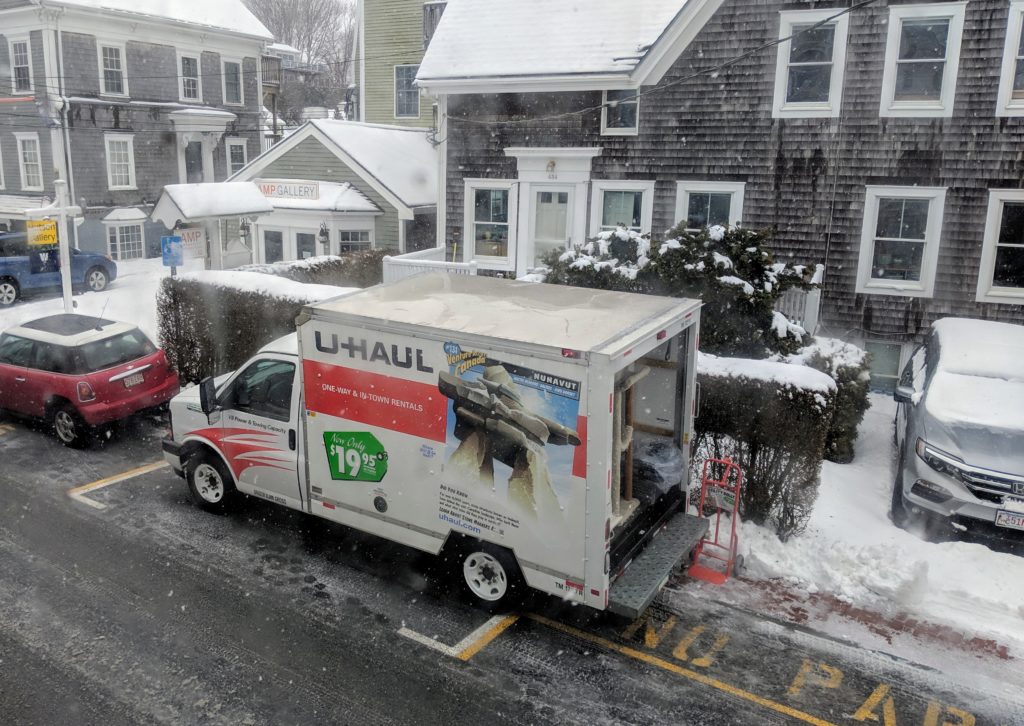 I had to move the truck several times for the snowplows. The snow emergency in Provincetown wasn't lifted until the evening. It wasn't snowing very much by the time we got there, but it was enough to make carrying things across the street a bit unpleasant. The stairs are also pretty scary when wet.
After a very nice (and filling) dinner at Ciro and Sal's last night, Bob and Sonja went off to their rooms at a B&B, and I spent my first night in my new apartment. The cats eventually consented to visit me on the bed, but they are still far from their usual pushy selves. Today dawned bright and beautiful, and Sonja and Bob helped move the unpacking along much farther than I would have accomplished on my own. We had a nice brunch at Canteen and saw an art show, and I showed them the beachfront behind my building.
And now I've begun my exploration of the off-season restaurants (Blackfish, in the space where Local 186 is in the summer), and am about to collapse into bed before 8pm to try and fight off a cold.